First ASPS national course on political campaigns and elections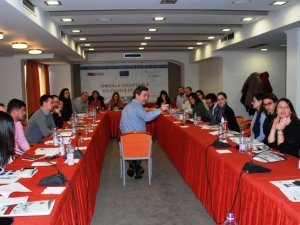 Monday, March 13, 2017
The first national course of the Albanian School of Political Studies named "Political organization and electoral systems", took place in Pogradec from 19-21 February 2016. The invited experts shared the best of local and international practices.

Mr. Jim Arkedis, with over 15 years experience in American political campaigns addressed the topic of "Political Communication and campaigning." An important part of this training was devoted to the discussion on the recent elections in the United States and the election of president Donald Trump. The techniques used by the two political camps and the role of social media in political communication of presidential candidates were analysed in a practical approach. The participants had also a short training on "Public speaking", offering to them the opportunity to further develop this very important skill for presentation and their careers.

Meanwhile, the Albanian electoral systems were presented in the second module of the course by the co-chairman of the parliamentary committee on electoral code reform, Mr. Oerd Bylykbashi. Participants also had the chance to discuss with z.Bylykbashi and share their thoughts on another important issue as it decriminalization.

The last module was dedicated to the reform on justice system, with the participation of Mr. Fatmir Xhafaj, chairman of the parliamentary commission of the legal affairs and meantime the national coordinator for this important reform. Mr. Xhafaj shared with the participants an analysis of current developments to further reform and challenges for the implementation of the reform.